Contact Us
WE'RE HERE TO HELP YOU WITH OUR DEBT SETTLEMENT SERVICES
Have you reached thE point where YOU'RE
Missing Payments – Currently in Collections – Declared Delinquent
IF YOUR DEBT IS UNSECURED WE'RE HERE TO HELP YOU SETTLE
 When you're trapped in a situation like this we can be the helping hand that can decrease the value of your debts to dramatically reduce what you owe.
The cost for you to find out what we can do and how we can help is literally nothing! 
Give us a call today to take back control of your finances & your life
Hours
| | |
| --- | --- |
| Monday | 9:00 AM - 10:00 PM |
| Tuesday | 9:00 AM - 10:00 PM |
| Wednesday | 9:00 AM - 10:00 PM |
| Thursday | 9:00 AM - 10:00 PM |
| Friday | 9:00 AM - 10:00 PM |
| Saturday | 10:00 AM - 5:00 PM |
| Sunday | 10:00 AM - 5:00 PM |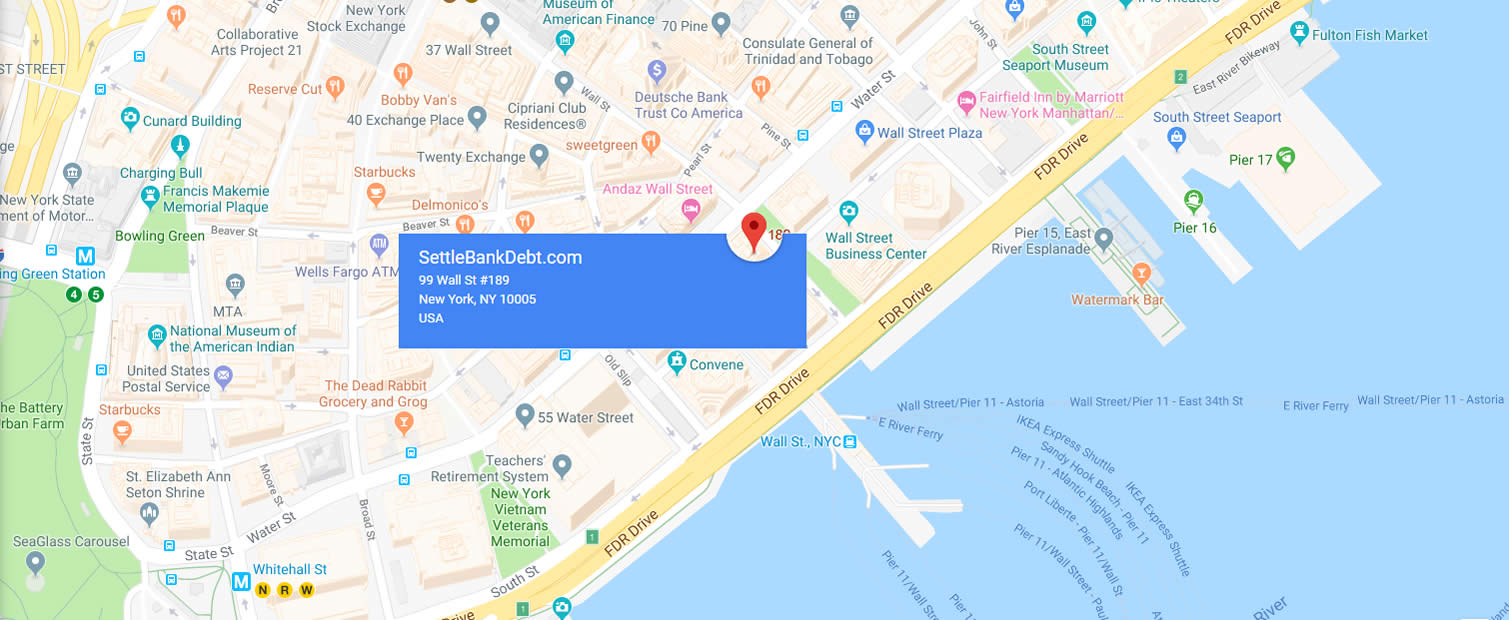 Over 18 YEARS Experience
Place your trust in a company that has over 18 years of experience in the debt settlement industry. We don't use computer generated quotes, as each client has individual needs and concerns. Our services are individualized to the needs of our clients.
Fast debt settlement is based on the art of negotiation. Banks and creditors are usually open to this practice when they know they are speaking with professionals who are willing to see both sides of the equation - the client and the creditor. Creditors want to settle the debt. It is our job to ensure that it is settled in your favor, giving you the peace of mind you deserve.
No matter how bad you think your finances are, even if you're in collections, or have been declared delinquent, let's discuss how we can help. Contact us!
Address
99 Wall St #189, New York, NY 10005, USA
Hours
Monday 9am–10pm
Tuesday 9am–10pm
Wednesday 9am–10pm
Thursday 9am–10pm
Friday 9am–10pm
Saturday 10am–5pm
Sunday 10am–5pm
SettleBankDebt.com  - Fast Debt Settlement Solution Experts